WOWWWWWWWWW!!! Each time I go on Vogue, I just see more shows that I love! I'm really liking the outfits that are heavily embellished beads, sequins etc.. that relate to cultural influences within the collections. I'm also so glad that the androgynous style is still in, as it's such a powerful look. I don't like the masculine fit on me, as I usually opt for the fitted silhouette's, but on the models it looks sleek .
My top designers for New York would have to be Prabal Gurung, Zac posen and Proenza Schouler....
PRABAL GURUNG
I hadn't thought of Gurung as one of my top designers before S/S 2012, but I was so in love with that first outfit, it sticks in my mind, when I think of New York fashion week that dress is what I see.
Similar to what Stella Mccartney did last season, this collection is based on building on top of sheer, really thinking about where to place prints and fabrics. I love the mix of black, white and purple!
http://www.vogue.co.uk/fashion/spring-summer-2012/ready-to-wear/prabal-gurung#/image/39
ZAC POSEN
I love the elegance that Posen captures, he might even move Elie Saab off the top spot for my favourite evening designer, time will tell! :) With a show having Coco Rocha as the opening and the finale girl, there was no chance this show could fall. This show is full off beautiful dresses, especially evening dresses, but one dress I think you don't expect is the grey dress which has a fitted bodice, and the waist drops to the floor, with a lace overlay. Has that vintage feel and fit.
Finale dress
My favourite look
http://www.vogue.co.uk/fashion/spring-summer-2012/ready-to-wear/zac-posen#/image/16
PROENZA SCHOULER
These boys impress me season after season! I love the colours they choose, as each garment isn't just one colour, it's a few. The looks were based on the city shorts and a blazer look, which I think is a new way of thinking of smart dressing, but the fabric have a tribal feel to the pattern and colours used (I LOVE tribal art and history!).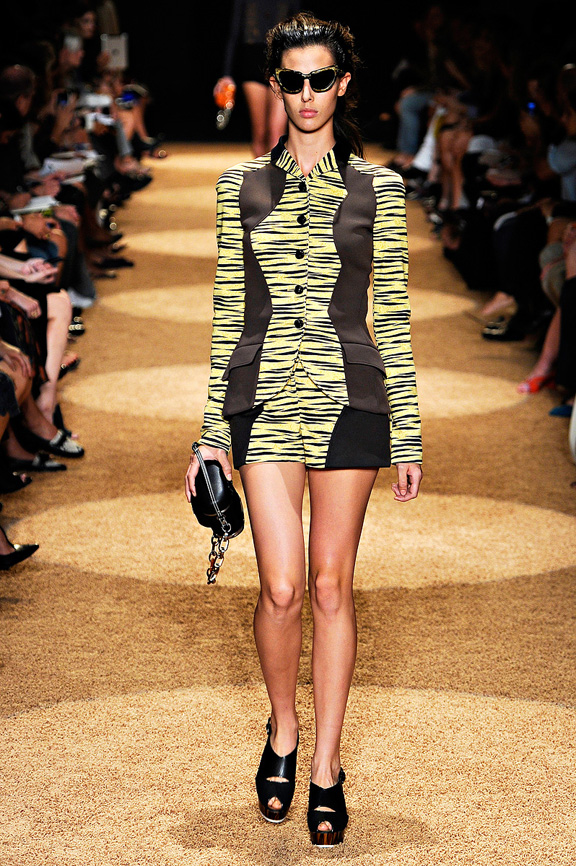 Thankyou for reading! Sorry it's a little late as we are already in Milan fashion week, and will be shortly going into Paris, which I cant wait for! Elie Saab is the last show, saving the best for last :)
Kate xxxx